GarageTek of Minnesota
Utilize Your Garage Space with a Garage Makeover & Remodel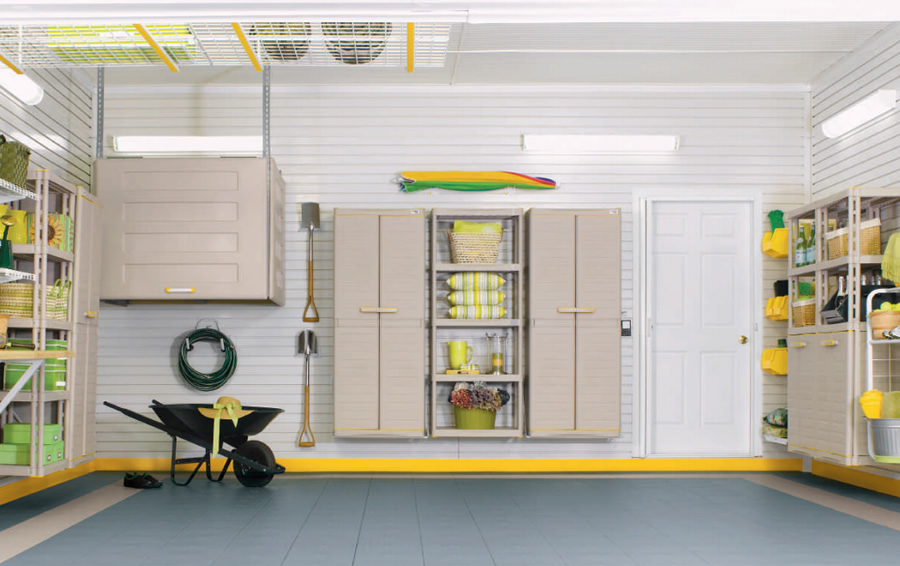 Robert Gary Builders, Inc. is the exclusive Minnesota dealer of GarageTek, the #1 rated garage organization system. Partnering with GarageTek allows Robert Gary Builders, Inc. access to the premier resource for garage storage and garage organization products - get the clutter off of the floor and onto the walls and ceiling of your garage. GarageTek of Minnesota garage storage products include:
The #1 Rated Garage Organization System
Wall Systems
Cabinets and Shelving
Lifestyle Accessories
Workshop Options
Flooring Solutions
Safety and Lighting
If your garage is cluttered, unorganized and in disarray, Robert Gary Builders can help design and install a GarageTek system that fits your garage storage needs. A complete garage makeover has never been easier.
Your home's garage is typically 10-12% of the total square footage of your home, and most do not utilize this under-valued space. A garage makeover and garage remodel from Robert Gary Builders will add value to your home and can improve a home's resale value.
Custom Designed Garage Storage Installation in Minneapolis & St. Paul
Give Robert Gary Builders, Inc. a call at (612) 978-3895 today or schedule an appointment online to begin transforming your garage project ideas into an exciting reality! Robert Gary Builders, Inc. services Minnesota and western Wisconsin. Let the garage organization professionals create a clean, bright, organized space in your garage.
Common Questions About GarageTek Garage Organization Systems
Are there any options for adding storage to my garage ceiling?
Yes, GarageTek has several garage ceiling storage solutions to maximize the usage of overhead space to store items in your garage including several sizes of heavy duty overhead storage racks, as well as a variety of hooks and hangers for bikes, ladders, yard tools and other items.
What are the GarageTek cabinets made out of?
The GarageTek cabinet bodies are made of molded polypropylene and the posts are PVC. This material is ideal for the garage environment because it won't dent, scratch or rust (like steel can) or fall apart in the heat humidity. Internally, the shelves are made of powder coated steel to maximize shelving strength.
Will this help the resale value of my home?
The typical garage makes up 10-12% of the total square footage of a home. A garage makeover with attractive, organized storage and a bright, well-lit garage space will improve a home's attactiveness to homebuyers and increase a home's value. A Braun Research survey showed that 82% of Realtors® stated that a disorganized garage has a negative impact on the first impression of anyone looking at potential homes.
Photos from a Garage Makeover Done in Maple Grove, MN
Photos from a Garage Storage Design & Installation Done in Andover, MN
Request Appointment
Are you interested in learing more about a GarageTek garage storage system installation? To request an appointment, please fill out the form below and we will get back to you as soon as possible.